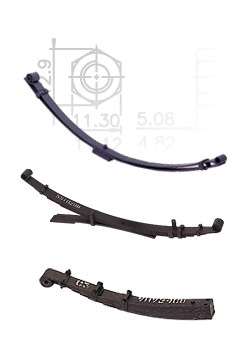 All Your Heritage Car Springs from a single source
At GB Springs we pride ourself on producing the largest range of leaf springs for British Classic Cars
The GB Springs range is available for home and export sales and we intend to provide a cost effective solution to the supply of Classic Car Springs
We offer a high quality and cost effective solution to the suspension needs of the classic car market, including springs and bushes.
We produce springs wherever possible to original specifications including for instance interleaving to reduce friction and wear.
Our springs are also produced for Racing and Rallying applications which highlights the quality and durability of our product.
We are able to build new springs, refurbish old springs and develop new solutions for individual problems.
Below is our range of Heritage Car Springs. If you cannot see the spring you are looking for please contact us...
GB Part No-
Description
No-Leaves
OE Part No's
Morris
MG021
Minor Traveller (Series 2 and 1000)
7 leaf
ACA-5066
MG022
Morris Quarter ton van Chassis 6042 on, Series 3 and GPO van
8 leaf
ACA-5038
MG023
Minor 1000 from Chassis No- 680464
5 leaf
ACA-5488
M.G.
MG009
MGA (INCLUDES MK2 AND 1600)
6 leaf
AHH5461Z
MG006
MGC Coupe from chassis GCD1/786
7 leaf
AHC791Z
MG011
MGB GHN 5 from chassis 360301 to chassis no- 386795
7 leaf
AHC31
MG012
MGB Roadster 62-74 to chassis No- 360300
6 leaf
GSV1006
MG013
MGB Roadster 1974 on
7 leaf
BHH-1779
MG014
MGB GT Coupe from GHD5/361001 75 on
7 leaf
BHH-1767
MG015
MG Midget 1275 mark 3 (Gan 4 and Gan 5)
5 leaf + pp
AHA-8093
MG016
MG Midget 1500 Mark 4 GAN6
6 leaf
CHA-493
MG002
MGB GT Rear Rubber V8 from D1/2101
7 leaf
BHH-1771
MG003
MGB GT V8 Chrome GD2 up to D1/2100
7 leaf
BHH1133
MG010
Midget Qtr Eliptic
10 leaf
AHA5468
MG020
Midget type TD
7 leaf
AAA2372
MG024
MGB Rear Up Rated
6 leaf
AHT20Z
HEALEY
MG017
Healey 100 Six (BN4), Healey 3000, Healey 3000 Mk2 (BN7) & Mk3 (BJ8) to chassis 26704
7 leaf
11B5266X
MG029
Healey 3000 mark 3
6 leaf
AHB9980
JAGUAR
JA002
Jaguar XK120, XK140
7 leaf
C5271
TRIUMPH
TR004
Triumph TR2/3/3A
6 leaf
301017
TR008
Triumph TR4 Chassis CT1 to CT2828
6 leaf
208636
TR005
Triumph TR4A rigid suspension only
6 leaf
212113
TR006
Triumph Spitfire Mark 1, 2 & 3
7 leaf
305894
TR009
Triumph TR4 from Chassis 23383 (Deepdish)
6 leaf
209964
TR001
Triumph Spitfire Mark 4
5 leaf
159640Z
TR007
Triumph TR2-4 Competition
6 leaf
TT4016